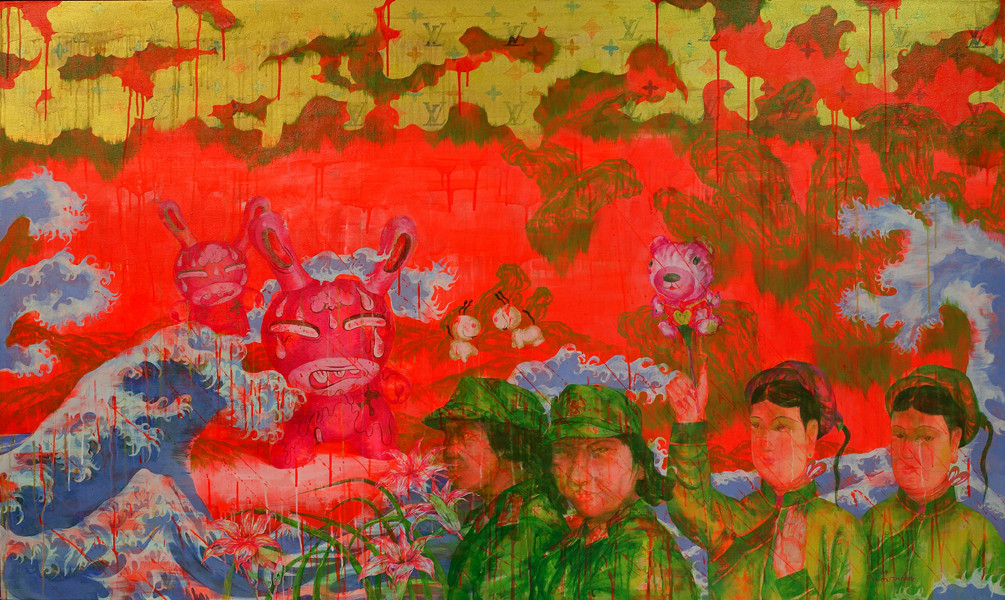 Vietnamese contemporary art of the past decade, especially that practiced in Hanoi, has embraced performance and installation with unprecedented enthusiasm. Artists' attraction to these ephemeral and non-commodified media is explained by a dearth of exhibition space, relatively inexpensive production costs (1), and also because these forms embody a reaction against painting experienced by the creative community in the wake of the commercial art market's explosion post-doi moi (2). Painting in Vietnam, however, is not dead! In an ongoing body of work (3) titled Not Memory, Hanoi painter Ha Manh Thang rehabilitates the medium as a story-telling vehicle.
Ha Manh Thang puts Vietnamese history and cultural fragmentation at the centre of his current series of narratives. Using a mixed iconographic language referencing past and present, his country's physical landscape, and cultural totems high and low, indigenous and foreign, through his painting the artist projects a view of contemporary Vietnam as her people start to grapple with the meaning of history and past decades' unprecedented transformations.
Though Ha Manh Thang is no stranger to installation (4), painting is his medium of the moment. Richly luminous in palette, and visually seductive despite their sometimes busy collage of signs, Ha Manh Thang's graphic pieces, by combining realism with an expressionistic stylistic idiom, avoid the slickness associated with much Asian painting of today. Similarly, the artist's long-standing attachment to paper, even as he now readily paints on canvas as well, attests to his loyalty to the traditional medium, irrespective of the commercial market's view of paper's lesser viability.
Re-appropriating imagery and references of particular local significance – propaganda photography from the American war depicting the camaraderie of women troops; traditional woodcuts of chaste women indulging in artistic pursuits; a portrait of anti-colonial Emperor Duy Tan (5); Ly Dynasty poetry proclaiming independence after a thousand years of Chinese rule(6); Hanoi architectural landmarks-, with this series the artist is at his most close-to-home yet(7). His suggestion of the past is not nostalgic however, but aims instead to provoke thought about alternative histories: Duy Tan as a possible national leader booting out the French; women singing for the sake of art as opposed to singing to boost morale in war time; the fate of the country today had Vietnam not been dominated by China for a millennium…By further framing these parochially meaningful references against a backdrop of emblems of international popular culture such as Hokusai's print of a tsunami wave (evoking both the violence of change and Japan of the 1970's, overrun by Western influence in the way Vietnam is overrun by foreign influence today), Mickey Mouse, and Japanese Hello Kitty-style icons, Ha Manh Thang constructs an allegorical world that addresses the contradictions of today's Vietnam from an insider's perspective.
This insider's take, manifested by Ha's engagement with his people and national history, is key to his work's communicative power. While undoubtedly forging an irony-tinged critique of consumerism, brand-consciousness, civic apathy, and various other problematic Vietnamese cultural phenomena, Ha Manh Thang's living tableaux of Vietnamese life, with their ambiguity and lightness of touch, differ from the biting satire of Saigon-based Khanh Bui and the intensity and conceptualism of Tran Luong. Further afield, Ha's paintings do not display the detached and sometimes sneering cynicism of Chinese political pop of the post-Tienanmen years. Ha's painting may perhaps remind some of that by Yue Minjun or Wang Guangyi(8). But it is not because Ha's canvases incorporate a smattering of Western pop imagery and brand logos that they should be read in the same way. Asian artists availing themselves of the over fifty-year old and thoroughly trans-global pop-art language are innumerable so comparing them on this basis, however loosely, fails to illuminate either their art's aesthetic or goals.
Ha's series revolves around Vietnamese men and perhaps more significantly, women. He sometimes plays dress-up with his protagonists: army uniforms, the traditional ao dai, emperor's robes. These outfits point explicitly to Vietnam's ancient and more recent past, as well as, more allusively, to the country's conformist codes, still pervasive today but increasingly questioned. But even when approaching camp in their dress, his subjects' realistically-painted features and expressive gazes confirm the artist's commitment to them and their role in the building of the new Vietnam. His women in army garb in particular, individualized and urbane if androgynous, exude a muted confidence, the artist seemingly prodding them toward the emancipation that they do not yet enjoy in real life.
Ha Manh Thang's painting of the last several years is characterized by its humour and visual accessibility. But whether his cast includes racing car drivers, boy emperors, or women soldiers, there is a freshness to his vision of contemporary Vietnam that entices the viewer to look ahead with anticipation rather than angst. Not Memory is more fully focused on historical and social concerns than past sequences, and is more questioning as a result. Though pop emblems here are rife, they are not central to Ha's story except in their suggestion of consumer desire, a by-product of economic progress common to all developing nations. Otherwise, these signs –Louis Vuitton logos, telephone brands, animation-comic-book- figures- can be understood as a backdrop to 21st century Vietnam, prompts reminding us that the country, isolated from the world for many decades (9), has resumed its historic position as a cross-roads of cultural influence where received global consumer ideology can not only transform the local, but also, conversely, be transformed locally into something indigenous and new.
Ha is deliberately ambiguous about the place of these fetishes in Vietnam today. He exploits their blank homogeneity to emphasize his paintings' real heroes. Seemingly randomly positioned amongst his Vietnamese subjects, in 'Happy with military career no. 1' and 'The King in the Past no.1' the Mickeys and Kitties float aimlessly –their lightness all the more palpable for the artist's use of image-bearing balloons as models-, so underscoring the solidity and reality of the figures who effectively anchor Ha's paintings. In 'The King in the Past no. 2', the Vuitton logo is rendered as an expanse of sky, cloudless, sunless, and bland as a sky can never be. In thus playing up the dreamy irreality of these metaphors of imported aspiration, and contrasting them with the naturalistically depicted portraits of soldiers and ancestors, Vietnamese history's true actors, Ha Manh Thang brings to the fore one of the salient dichotomies of Vietnam today as the country's people determine their course. Through this play of visual and conceptual contrasts, Ha engages his viewers in active dialogue, putting to them questions about the relationship between Vietnam's history, and the nation's choice of path for the future. Because of the directness of this rapport with his audience, Ha Manh Thang's paintings convey a sense of empowerment and possibility, reaching out to a universal audience.
Juxtaposing swatches of the North Vietnamese landscape, locally iconic architecture, early poetry, a seemingly arbitrary assortment of pop images of various origins, and likenesses of Vietnamese in various types of official dress, Ha Manh Thang's compositions concentrate the conflicting realities and values of contemporary Vietnamese life into a single pictorial space. This amalgamation, beyond its visual seduction, translates the unique tension arising from the confusion and possibility that cohabit in today's Vietnam. Candidly referential in its expressive idiom, Ha Manh Thang's Not Memory articulates a Vietnam on the cusp of empowerment and change.

Iola Lenzi (*)
March 2010
Notes
(1) See Taylor, Nora, 'What's Art Got to do with it?', C-Arts Vol. 11, (November 2009), Jakarta/Singapore, pp. 22-25 for a discussion of painting, performance and the art market in Vietnam today.
(2) doi moi is the the economic open-door policy initiated in 1986 by the Vietnamese government
(3) other paintings from this series have been and are currently exhibited in Berlin and Stuttgart in the IFA group show Connect: Art Scene Viet Nam
(4) Cf. Ha Manh Thang's installatoin 'Dream of a Skyscraper' in Hanoi: 5000 Hoan Kiem Lakes, Vietnam Fine Arts Museum, 2007
(5) Emperor Duy Tan of the Nguyen Dynasty (Reigned 1907-1916) plotted to overthrow the French and was exiled in 1916. In 1945 he planned his return to Vietnam where he might have challenged Ho Chi Minh as consensus-building patriotic leader but was killed in an air crash on his way home.
(6) Versions of the poem by Ly Thuong Kiet on the paintings right upper side in Chinese and English:

南國山河南帝居
截然定分在天書
如何逆虜來侵犯
汝等行看取敗虛
Mountains and rivers of Southern country
The Southern country's mountain and river the Southern Emperor in-habits.
The separation is natural and allotted in Heaven's Book.
If the bandits come to trespass it,
You shall, in doing that, see yourselves to be handed with failure and shame!
Ly Thuong Kiet was a poet of the 11th century and this poem, written during a period when Vietnam was freeing itself from a millenium of Chinese rule is considered a declaration of independence.

(7) A previous series Race Team, is less obviously connected to Vietnam and her people
(8) According to postings on several blogs
(9) The country was isolated by the U.S.-imposed trade embargo from the end of the Vietnam/U.S. war until sanctions were lifted in 1994. Joining the World Trade Organisation in 2007 accelerated Vietnam's exposure to consumer culture.
(*)Of Emperors, soldiers and poetry- the recent painting of Ha Manh Thang (*) : an article for solo exhibition "Not Memory" , Bui gallery , Hanoi, April 2010
(*) Iola Lenzi : Iola Lenzi is a Singapore researcher, curator and critic of Southeast Asian contemporary art. She lectures in the Asian Art Histories MA programme of Singapore's Lasalle-Goldsmiths College of the Arts, is an advisor/contributor of the 'Journal of Fine Arts', Silpakorn University, Bangkok, and the author/editor of regional visual art research essays and catalogues. She has conceptualised numerous exhibtions of
Southeast Asian art in the region and China, major projects including Stitching the Wound Arahmainai in Bangkok, James W. Thompson Foundation, Bangkok (2006); Making History, Esplanade Singapore (2010); Negotiating Home History and Nation:
two decades of contemporary art in Southeast Asia 1991-2011, Singapore Art Museum (2011); Concept Context Contestation: art and the collective in Southeast Asia, Bangkok Art and Culture Centre (2013); and Masterpieces- digital art in Southeast Asia, Samsung art projets (ongoing). She is the author of Museums of Southeast Asia (2005), and writes for Asian Art Newspaper, London, among other specialist publications.