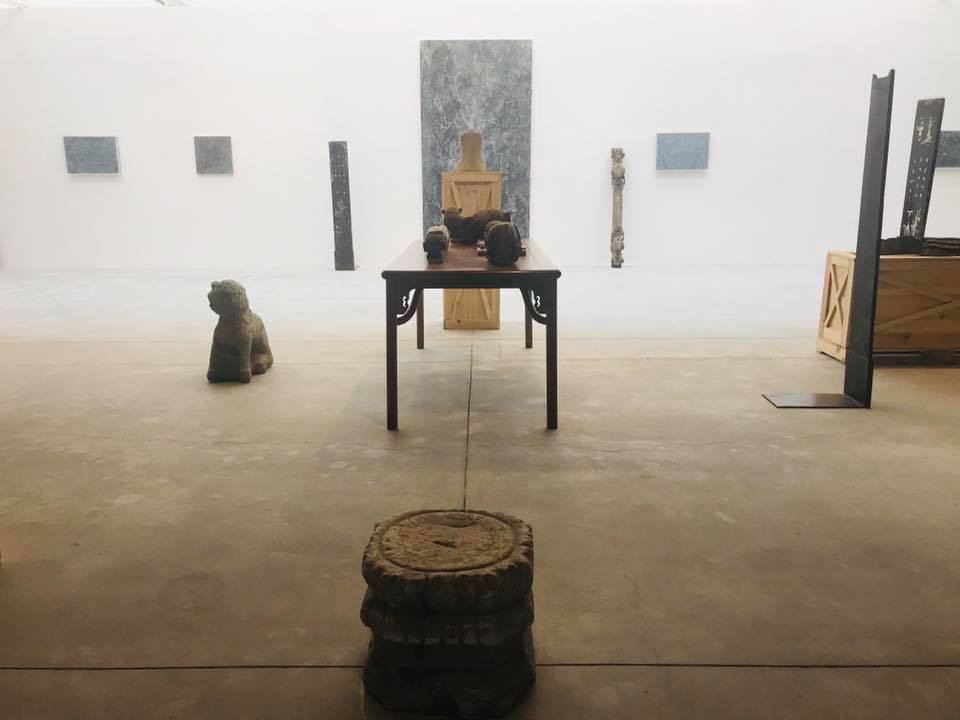 The Vietnamese language has a multitude of words to describe seriousness. "Nghiêm khắc, nghiêm nghị, nghiêm túc, nghiêm trọng," etc.
Applied to a person or situation, each denotes varying degrees of severity, devotion, self-respect, solemnity, and gravity.
Each word can show a person's character, and how he goes about his life and his work. 
Somehow, all these words seem to describe Ha Manh Thang, each quite approriately.
Thang is a serious man. And he takes his work seriously.
Ever since he was in art school, Ha Manh Thang had already had a reputation as a serious artist, with serious intentions, and serious potentials.
The years since has proven his dedication to his craft. It is of no surprise that Thang is among the most respected contemporary artists in Viet Nam today, earning proper attention from galleries and museums throughout the country, in several Asian countries and elsewhere.
Thang's seriousness has never been a block to experimentation. Earlier works showed a penchant for bright and contrasting colors as he brought a touch of pop art to his canvases. In that period, Thang seemed to look at current days Viet Nam and forewarned of a certain societal degeneration. It was a common theme with artists such as Nguyen Van Cuong and Le Hong Thai, who in the 1990s and the decade that followed decried the unchecked advances of capitalism, the chaotic and unruly aspects of post-war, recent economically-open Vietnamese society. Younger than such artists, Thang nevertheless cast a worrisome, if at times comical, eye, on the younger generation.
In recent years, Thang seems to have lost that focus – or perhaps he's become concerned with what's forgotten behind as the new generations move forward rather recklessly. It is interesting to think of how Thang arrived at the themes of the most recent series.
Thang is serious about light: whether filtered through the mist of the early morning a
as he wanders out for his daily coffee, or reflecting on the surface of the lake at dusk, in the darkening moments of the day as he looks out his window.
His paintings encapsulated such contemplation of changing light, with faint coats of paint washing over each other. They evoked a certain spirit in the paintings of Mark Rothko. But whereas the layers of light—square upon square of intermingling or overlapping colors—inside the Rothko paintings are large blocks that convey a spatial depth, Thang's layers are brush strokes, lines that convey time.
His most successful paintings of the past few years ask viewers to see the passing of time, moments by moments, each fading in and under others.
Perhaps more obvious than the spatial layers in Rothko's masterful paintings, Thang's is also just as painstaking, particularly with the use of architectural lines inspired by old renderings and sketches he's been researching in various regions of Viet Nam.
The faded outlines of a temple, an age-old comunal building become ephemeral, yet timeless. They're similar to the painting and sculptural works of the brilliant Do-Ho Suh, a Korean/American artist whose delicate architectural vision relates to disappearing monuments and childhood homes. 
Thang too is seriously concerned with such public monuments, but his paintings is less a happy hommage to structural past than to a mourning for their passing.
Similarly, his current works—forming the bulk of this exhibition—evoke a time past, and the grief of something lost.
In this current series, Thang has reached for words. Centuries old words that have become timeless as they are deftly woven together by the famed Chinese poets Li Po and Du Fu (700s). Thang finds in these poems reflections of fading lights, of passing moments, and the romantic temperament of serious souls moved by a few seconds of a season. 
In his paintings, Thang incorporates ancient characters that came from such poems. It is a return to his earlier series where words engraved in ancient scrolls fascinated him.
The characters he uses in his paintings aren't so readily obvious – they seem lost in the brush strokes and layers of monotonous colors. They're faded, relics perhaps on an undistinct background. The brush strokes and intermingling colors are somewhat reminiscent of the sweeping abstract vistas in the paintings of Gerhard Richter, but definitely more intricate and less mechanical. Thang's works too seem to belong to the school of abstact expressionism, albeit with an Eastern sensibility.
Viewers will decide whether Thang is asking for a moments of mourning, of grief of what is already lost, or is he merely continuing to ponder the passing of time, a cyclical process from dark to light, from light to dark, from clarity to obscurity and back again. 
Thang is a serious man, and a serious artist. Pick any of the words in Vietnamese, and contemplate his vision. In the midst of a fast-changing society, a chaotic world, Thang is surely a rare man who can take long moments to observe and think of the rising sun, of descending dusk, and to read the romantic yet severe words of long ago poets.
In their poems, and in Thang's latest works, seriousness, severity, devotion, self-respect, solemnity—are all there, absolutely.
Hanoi, Autum 2018
Nguyen Quy Duc
*The article for Ha Manh Thang solo exhibition ELLIPSES, Dec 2018, VCCA, Hanoi, Vietnam