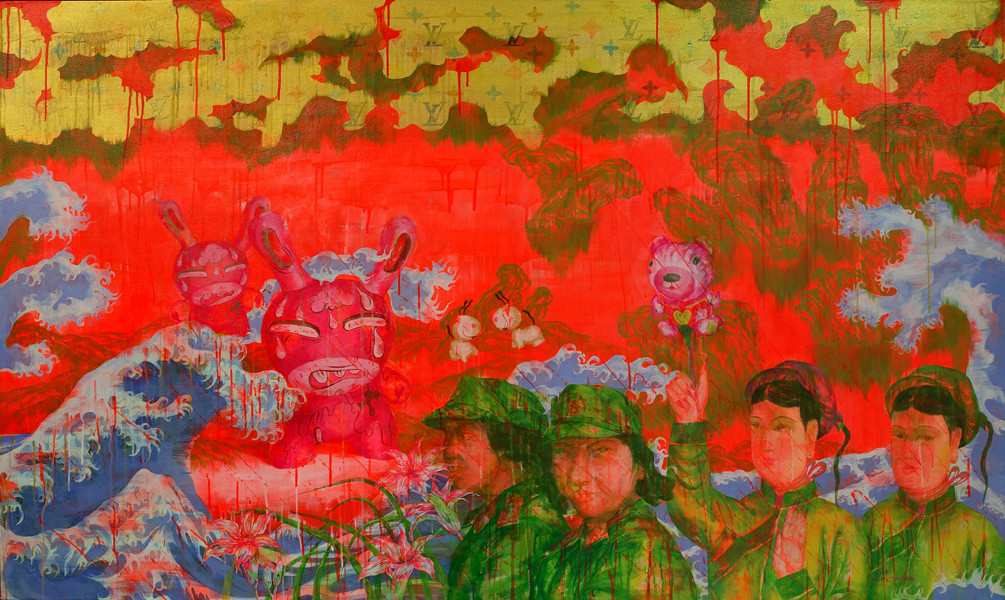 Ha Manh Thang was born 1980 in the Thai Nguyen Province, where in 1998, he graduated from the Viet Bac Art and Culture High School. From 1999, he continued his studies in art at Hanoi's Fine Arts University, where he graduated in 2004. He still lives and works in Hanoi.
Thang started painting at the age of 10 and was initially inspired by the Austrian painter Egon Schiele.
His paintings are often colorful, expressive and large in size. They are critical of Vietnam's society today, and examine a variety of issues faced by the young people of Vietnam. "My paintings are reflections, not solutions", he happily stated in a recent interview.

In these two acrylics (Fig.1) on paper scroll The Artist and The Artist's Girlfriend (2007), which incidentally are part of the Singapore Art Museum collection, he combines the old traditions of ancestral portraits of the Chinese Imperial court with the contemporary, shimmering colors of today's advertising, adding newspaper clippings and the names of luxury brands like "Louis Vuitton" to his work, hence raising awareness to the consequences of mass-media and culture, and the dangers of a rapid economical development. This work is part of his Kitsch series of thirty paintings produced between 2004 and 2008.

In this project called Race Team (2008), Thang portrays himself as the Formula One racecar driver Lewis Hamilton, whom he admires greatly (Fig. 2). Here, he puts himself as Lewis Hamilton among local people, reflecting on local traditions like the rickshaw business in the middle, and observing the youth in designer clothes with their mopeds, revealing the signs and effects of present times.
This painting (Fig. 3) of the same series is his own version of the "Three People Monument" of Hanoi. The "Martyr Monument", as it is also known as, stands for all the people who have died in wars fighting for Vietnam's independence. Here, a soldier with a machine gun symbolizes the current regime, and a portrait of himself as Lewis Hamilton, points to the modern world outside as well as the dangers of the quick commercial and economical development of Vietnam. To him "it happens way too fast and not for the benefit of all".

Most impressive are the portraits of local peasants, which he did in 2008 (Fig. 4). Years ago, when he traveled into the countryside he gained certain compassion for their simple lives, and after close observation he started to sketch the faces of different men doing their jobs and chores. These paintings are impressive in size (155cm x 155cm) and painted in either black and white, or red and white. The red and white series consists of 40 paintings and are very much illustrative of personality and identity.

This particular oil on canvas perfectly captures the reality of the hard peasant life. His determined and skillfully applied brushstrokes highlight the eyes, nose and mouth, and give the face certain humility, vulnerability and familiarity. Yet at the same time, it seems to grip the viewer and demands a moment for thought and reflection on the nostalgic and almost haunting stare.
All these portraits are superbly executed works and fully express the emotions of the artist and his subject.
Thang has already enjoyed considerable exposure outside Vietnam and some of his latest works of the "Not Memory" series are part of this solo-exhibition. Incidentally, three of the paintings of the same series are also being presented presently in Germany at the IFA-Gallery in Berlin.

His inspiration "to change the memory of Vietnam" is the main idea behind this latest series, he explained. Thang was motivated by old black and white photographs of Vietnam's war scenes, and painted these scenes in a new way, set in a romantic landscape with a famous Saigon church in the background, as seen in this oil on canvas (Fig. 5). It is his attempt of rewriting the past and offering people a new vision of Vietnam. He is adamant to convert his ideas and to send a message to the young generation of his country. Again making use of the symbols of luxury brand names, and still integrating Lewis Hamilton in his works constitutes for the rising wealth in the economy. Red is his preferential color but "it does not refer to anything political", he confirmed (Fig. 6).
Figures 7 and 8 are both the very latest works as part of his Not Memory theme. He has taken his investigation into Vietnam's historical past and memory of the past even further. Both these paintings are based on the Japanese block painting technique, which became prominent through the works of Katsushika Hokusai (1760-1849), the artist most widely known and recognized for The Great Wave of Kanagawa (circa 1821) Ukiyo-e print. Thang compares the collective memory of Vietnam's past to an ocean wave, which continually and without change moves from one generation to the next.
His work here, however, reconstructs that memory through the addition of symbols of modern icons like, fashion logos and stuffed toys, and by mixing real space with the conventional space of his painting on old Chinese paper, reducing it to two dimensions rather than three.
Both these paintings are collages of pieces of history. They are in reference to the child Emperor Gia Long (1802-1820) who was usurped the throne by the French Colonialists, and taken away to an island, where he died at a very young age. Thang includes famous Japanese children's toys to bring attention to the fact that this king had no childhood at all, hence offering a new dimension to the thought of that memory. He stated: "Finally, producing these compositions for Not Memory has made me realize that Memory Is Not Memory, if we recognize its different impacts on each of our lives and souls…"
Through the criticism in his artwork, Thang is able to send out a message, and at the same time communicate what he finds wrong in society. For him, the economic growth is developing too rapidly without the people actually realizing the negative effects, which he is conscious of but the public often is not. He repeatedly includes designer brand names in his work, which are warning signs of materialism.
The narrative Thang uses in his artwork raises and signifies awareness. He fully identifies with his work and can be seen as a negotiator between the new economic situation after the implementation of "doi-moi", and the expectations and circumstances of the people of Vietnam. Through the transformation and combination of old and new in his Not Memory series, he bridges the gap between East and West and offers solutions to rewrite the past and rethink the memory.
What strikes one about Thang's art is the fact that he likes to change his style. His repertoire seems endless, and he does not shy away from new concepts. He does a series of paintings on a particular theme of interest but then moves on to something different. He has painted abstract, has had experience in installation art, and now often uses mixed media in his work.
Thang continually produces outstanding artwork, which is stylistically sound, and full of deep thought and understanding. A true talent of his time, he manages the fusion of traditional symbols and contemporary motifs perfectly. His paintings are aesthetically pleasing through his use of vivid colors, and always carry a message to stimulate thought.
Incidentally, Thang is the only Vietnamese contemporary artist featured in Painting Today by Phaidon Press, 2009.
Thang has a bright future ahead of him and we look forward to more of his versatile and highly expressive work.

Aggi Haig
Singapore , March 2010

(*) This article for Ha Manh Thang's solo exhibition at The Bui gallery, Hanoi, April 2010